COMMUNITY IMPACT FOCUS
ADDRESSING THE ISSUE OF CHILDHOOD HUNGER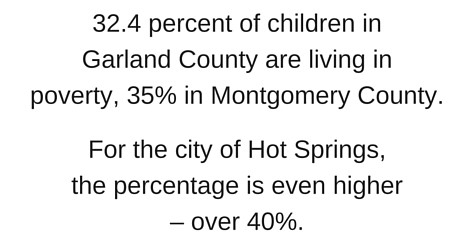 United Way went to the source to determine the most pressing needs of the Hot Springs region by conducting a community assessment. Board and staff interviewed a score of key community leaders, held Focus Groups in Hot Springs and in Hot Springs Village, and conducted an electronic survey that yielded over 150 responses. The questionnaires we used were based on Health, Education and Welfare statistics in the ASPIRE study from the University of Arkansas at Little Rock and funded by the Arkansas Community Foundation.
The community-wide conclusion is that focusing on childhood hunger will have the biggest impact now and in the long-term.

Accordingly, United Way adopted a three-year strategic plan in November, 2019 that underscores the issue of childhood poverty as the target for our investments in social service programs.
United Way will continue to fund programs in Education, Financial Stability, and Health and Safety, and will continue to support our long-term traditional Partner Agencies. In addition, we are asking them to create programs addressing issues of childhood hunger. With the majority of programs aimed at one priority target, our community can LIVE UNITED to give kids an opportunity to reach their fullest potential.